Aloha Folks!
I know it's been a while again since my last post here. I hope to find back to the weekly rythmn of posts soon again. We were moving and when this was done, the new LP's I'm introducing to you today arrived here and I had too much work with packing, processing order etc. ...so there was somehow a lack of time, and tons of emails are waiting for a reply too, ... but now back to the maintopic of this post: A lot of people were involved in the postproduction of these albums. The result was an enormous delay. But fiInally - approx. one year later than originally planned - they are finished and in stock.
Merlins Nose Records
now proudly presents two very fair and beautiful releases from the
Psych-/Pagan-/Neo-Folk
scene. Below you'll find further informations, reviews, sounds and links about them. Enjoy!
Arrowwood - Beautiful Grave (CD/LP)
File Under: Psych Folk / Pagan Folk / Neo-Folk

Sound:
Feat. Kim Larson (aka "Of The Wand & The Moon") and Pythagumus Marshall (from "Novemthree")! Mixed & Mastered by Eroc! With mystical nature-photos licensed from Florent & Maxime Courty and great artwork-layout by Kiryk Drewinski!
Sometimes music tells you more about its creator than he himself could ever do. Chelsea Robb, born in Albion, now residing in the mystical north west of the USA already fits well with the image of an incarnated elementary spirit from her whole appearance and has opened the gates to the magical kingdom in a musical way. Gentle, ethereal and sometimes even ghostly haunting sounds, created on all acoustic instruments such as flute, hurdy gurdy, reed organ and several stringed instruments apart from the classic acoustic guitar build the fruitful soil for a mystifying vocal performance by Ms. Robb who also perfectly performs in a duet with an even more powerful male voice courtesy of NOVEMTHREE mastermind Pythagumus Marshall. An enchanting swarm of different rattles, timbers, bells and rainmakers comes buzzing around the melody patterns, only scarcely driven by an occasional hypnotical beat of a hand drum. The surreal beauty of this second full length album by the project under conduction of Chelsea Robb knows to enchant the listener every second and to tickle his senses. This way even soft, calm and dreamy music can be utterly exciting. The spell of the magic kingdom works well into our dimension through the music of ARROWWOOD.

Formats / Purchase:
LP (Black): 180g Vinyl / Heavy Sleeve / Gatefold
LP (Col. - Ltd. to 100): 180g Vinyl / Heavy Sleeve / Gatefold
CD: Jewelcase / 12-Page Booklet - [will arrive later]

you can purchase the new Arrowwood album at Ebay:
http://stores.ebay.com/Surreal-Peppermint-Store/_i.html?_nkw=Arrowwood&submit=Finden&_sid=882387916
---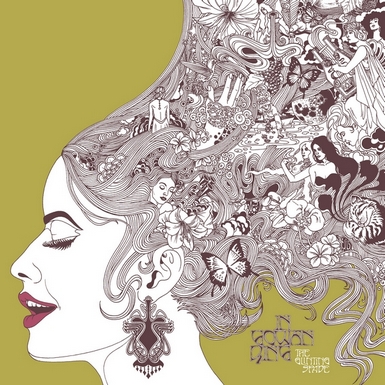 In Gowan Ring - The Glinting Spade (CD/LP)
File Under: Psych Folk / Drone / Songwriter / Neo-Folk

Sound:
No Overdubs or synthetic sounds were used for this album. Everything you'll hear on this album got recorded with physical vocals and instruments only. Long time out-of-print and highly demanded album, finally available again with new artwork by Kiryk Drewinski and new mastering by Eroc!
People have visions, grown and evolved in the world within to be transcended into the world outside. IN GOWAN RING is the vision of the American musician Bobin Eirth aka B'ee. It shows a man on his journey, incarnating the music of his soul. B'ee creates a truly vivid organism of sound which becomes outlined more an more during the creative process. Next to the folk traditions of the western world B'ee has studied different music from many cultures to explore all similarities and differences and to make it all become part of his inner vision. His works arise from the depths of his soul. This explains why he just created three albums within the first ten years of his career. The third album "The glinting spade" was awakened between 1997 and 1999 during a period of complete isolation and the detection of new musical influences with a childlike passion. No big surprise that this music is a rather intimate affair. B'ee's compositions are captured and detained by him and his fellow musicians partly with regular, partly with unique instruments that were created just for those recordings. The spiritual mood of the songs gets driven by enchanting melodies and quite often ends up in rather mystifying kaleidoscopes of sound. B'ee adds fresh inspiration and creativity to the tradition of the great ancestors of psychedelic folk and singer / songwriter of the 60s and 70s just like Donovan, Perry Leopold, Nick Drake or Exuma. It is a blessing for all music lovers that this long out of print record now receives it's well deserved reissue on vinyl and CD.

Our friend Klemen recently did an interview with B'ee. You can find it here:
http://psychedelicbaby.blogspot.com/2013/03/in-gowan-ring-interview.html

Birch Book - B'ee's sideproject - will be featured in the soundtrack of the upcoming otherwordly
documentary "The Fairy Trail". The Trailer can be watched at: www.fairytrail.tumblr.com

Formats / Purchase:
LP (Black): 180g Vinyl / Heavy Sleeve / Gatefold / Gold Print
LP (Col. - Ltd. to 100): 180g Vinyl / Heavy Sleeve / Gatefold / Gold Print
CD: 6-Panel Digisleeve / 16-Page Booklet / Gold Print - [will arrive later]

you can purchase the new Arrowwood album at Ebay:
http://stores.ebay.com/Surreal-Peppermint-Store/_i.html?_nkw=In+Gowan+Ring&submit=Finden&_sid=882387916